Anthony Radford Oration
Event - Friday, 20th September 2019 | 6:00pm - 8:30pm
A special event for health professionals
WHY DO IT BY HALVES?
The improbable adventures of a global nomad in Central Australia and other places.
Emeritus Professor Anthony Radford was named a Member of the Order of Australia (AM) in June 2019 for significant service to medical education and to global health.
The 4th Anthony Radford Oration will be delivered by Dr Teem-Wing Yip.
Teem-Wing Yip, also known as Nyalpi Nungarai, is probably the only person ever to speak both Cantonese and Pitjantjatjara, and possibly the only person ever to have eaten freshly roasted witchetty grubs with chopsticks. She is a global nomad who has lived in 7 countries so far and has been part of Scottish Country Dance groups in 4 of them. She's particularly happy if she speaks at least 3 languages in one day.
She is less than half the age of Anthony, her post-nominals are half as long as his, and she's a little more than half his height. Despite those significant differences (p<0.05), Teem-Wing is like Anthony in being an intrepid general practitioner and public health physician with lots of different projects on the go.
For further details and more information:
A light morning tea will be supplied, so please RSVP by Tuesday 17 September to:
Samantha Owens: (sowens@adelaide.tabor.edu.au)
Free parking on site (Orphanage Park car park or street parking)
Contact Tabor (08) 8373 8777 for more information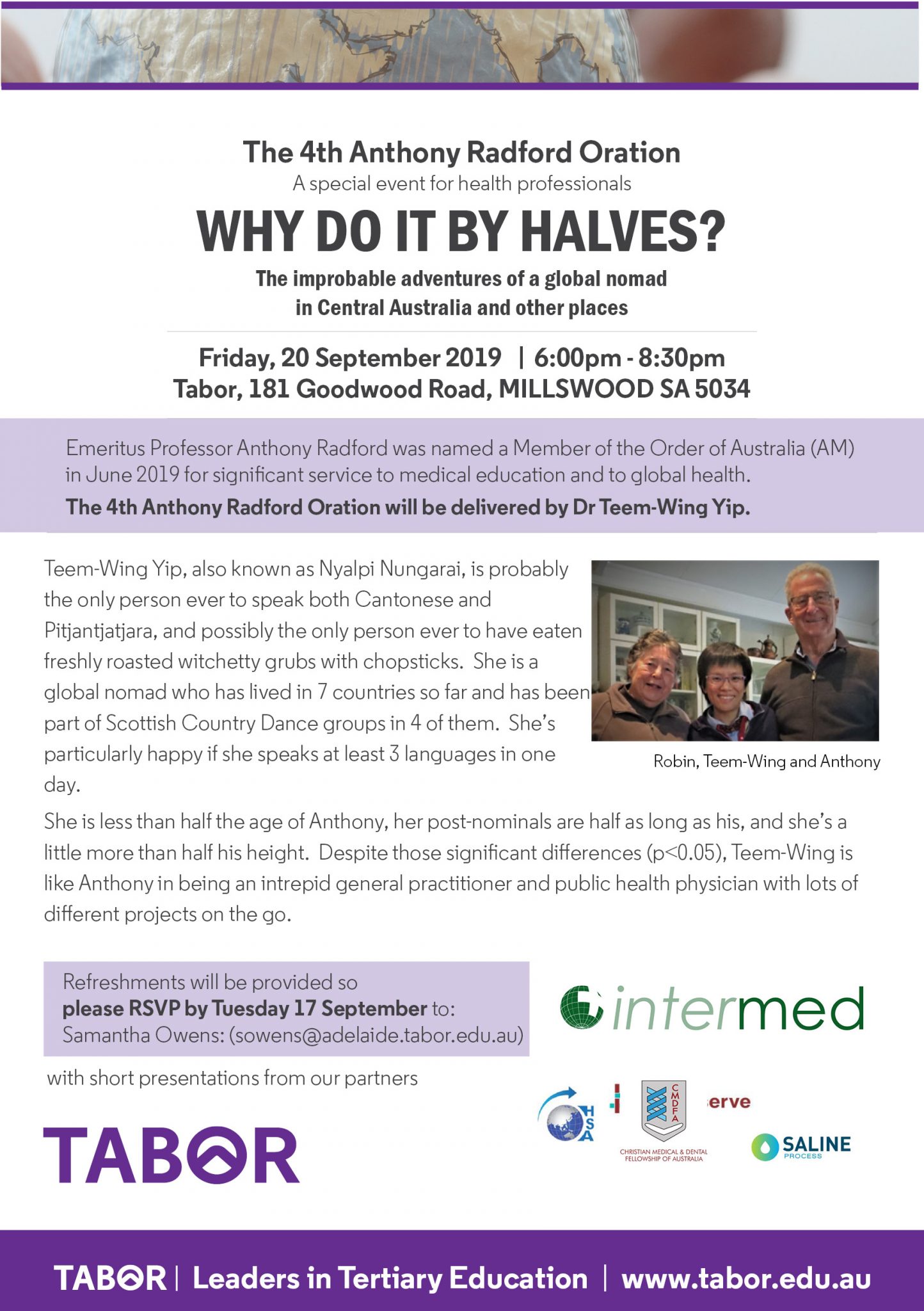 Event details
Location

Tabor, 181 Goodwood Road, Millswood 5034

Date

Friday, 20th September 2019 | 6:00pm - 8:30pm