Conflict Resolution and Effective Listening: Up Your Communication Game! TUES 22 & 29 AUG
WORKSHOP OVERVIEW
'Conflict Resolution and Effective Listening: Up Your Communication Game!' is a two -part workshop held over the course of two Tuesday evenings (22nd and 29th August) as follows:
Part A) Conflict Resolution Skills
Tuesday, 22nd August, 5:30pm to 8:30pm
Conflict is an inevitable part of inter-personal relationships. Therefore, developing the skills necessary to manage conflict effectively is essential if we wish to maintain healthy and growing relationships – both in our professional and personal lives. This workshop will examine key conflict styles and provide you a number of highly practical skills that can easily be contextualised to help you resolve conflict in a variety of environments.
PART B) Relearning to Listen
Tuesday, 29th August, 5:30pm to 8:30pm
Most of us believe ourselves to be great listeners. But do we really grasp what we communicate to others by the way that we listen? This workshop will increase your awareness of common unhelpful listening habits that may be undermining your interpersonal interactions, as well explore the key skills underpinning effective listening in order to help you "up your communication game."
(Sam Smith)
ADDITIONAL DETAILS
• Registration each evening will begin at 5:00pm for a 5:30pm start;
• A light supper will be provided each evening;
• Concludes 8:30pm;
• Free onsite parking available (please note, entry to Orphanage carpark is accessible via Mitchell Street).
ABOUT TABOR ASCEND
This workshop forms part of the Tabor ASCEND program. Tabor Ascend PD Workshops are different because they have been developed with flexible attendance options to allow you to decide what YOU want out of your PD. This means workshops can be completed for a variety of purposes including personal or professional development; to obtain a micro-credential; or to use toward a higher education award.
Further details on these attendance options are detailed below: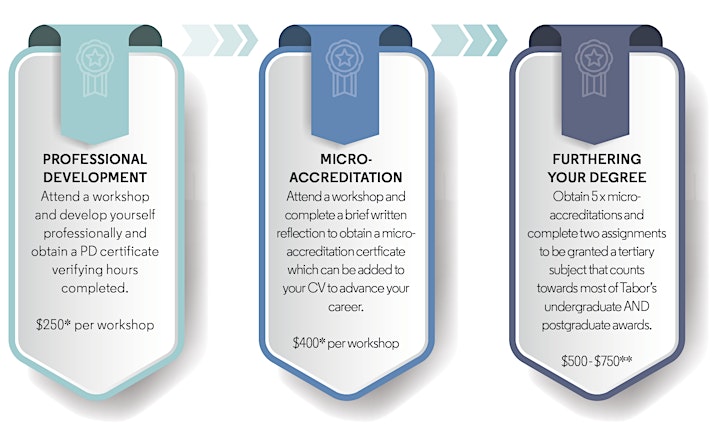 To find out more about how you can leverage PD toward a micro-credential or higher education qualification, please contact Amy Marsland at AMarsland@adelaide.tabor.edu.au.
Order tickets here
Conflict Resolution and Effective Listening: Up Your Communication Game! 
To register for this event, click on the above box or here – you will be redirected to Eventbrite.