Rhythms of Rest for Flourishing Lives (A Spiritual Retreat Day) SAT 18 NOV
WORKSHOP OVERVIEW
Many of us have a vexed relationship with rest. Intuitively we know our work and relationships are much healthier when we are rested. Yet we often feel too guilty, busy or exhausted to fully enter into the rest we so deeply crave. Held within a gentle and contemplative space, this workshop explores a spirituality of rest and some practical rhythms to help you 'recover your life' (Mt 11:28, Msg) and re-story yourself for flourishing living.
Join us at Tabor's beautiful heritage listed grounds, Saturday 18th November and invest back into yourself in this spiritual retreat style day centred on rest.
(Dr. Bruce Hulme)
ADDITIONAL DETAILS
• Registration from 8:30am for a 9:00am start;
• Lunch and barista made coffee included in ticket price (please ensure to make your lunch selection when ordering your tickets on Eventbrite);
• Concludes 5:00pm;
• Free onsite parking available (please note, entry to Orphanage carpark is accessible via Mitchell Street).
ABOUT TABOR ASCEND
This workshop forms part of the Tabor ASCEND program. Tabor Ascend PD Workshops are different because they have been developed with flexible attendance options to allow you to decide what YOU want out of your PD. This means workshops can be completed for a variety of purposes including personal or professional development; to obtain a micro-credential; or to use toward a higher education award.
Further details on these attendance options are detailed below: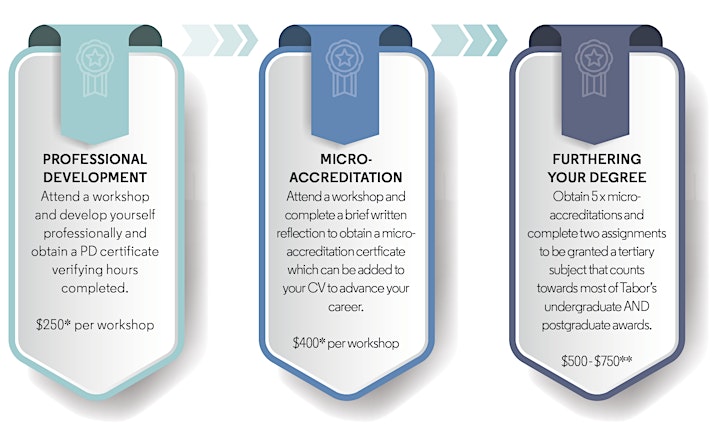 To find out more about how you can leverage PD toward a micro-credential or higher education qualification, please contact Amy Marsland at AMarsland@adelaide.tabor.edu.au.
Order tickets here
Rhythms of Rest for Flourishing Lives 
(A Spiritual Retreat Day)
To register for this event, click on the above box or here – you will be redirected to Eventbrite.