The Gospel: Making it Make Sense, and Making it Matter FRI 1 SEPT
WORKSHOP OVERVIEW
The Great English Puritan Richard Baxter once said, "Christ is a precious pearl, but He is often held forth in leprous hands … and we dull the glory of that Jewel with our dull and low expressions." None of us want to do that! Whether we are sharing with friends, family, colleagues, clients or students about Jesus, we not only want to make what we share understandable to them, but also show how relevant – indeed essential – Christ is to their lives. This workshop focuses on helping you understand how to do just that, whatever your context.
Join us at Tabor's beautiful heritage listed grounds, Friday 1st September and equip yourself to better contextualise the gospel for those in your world.
(Dr. Matthew James Gray)
ADDITIONAL DETAILS
• Registration from 8:30am for a 9:00am start;
• Lunch and barista made coffee included in ticket price (please ensure to make your lunch selection when ordering your tickets on Eventbrite);
• Concludes 5:00pm;
• Free onsite parking available (please note, entry to Orphanage carpark is accessible via Mitchell Street).
ABOUT TABOR ASCEND
This workshop forms part of the Tabor ASCEND program. Tabor Ascend PD Workshops are different because they have been developed with flexible attendance options to allow you to decide what YOU want out of your PD. This means workshops can be completed for a variety of purposes including personal or professional development; to obtain a micro-credential; or to use toward a higher education award.
Further details on these attendance options are detailed below: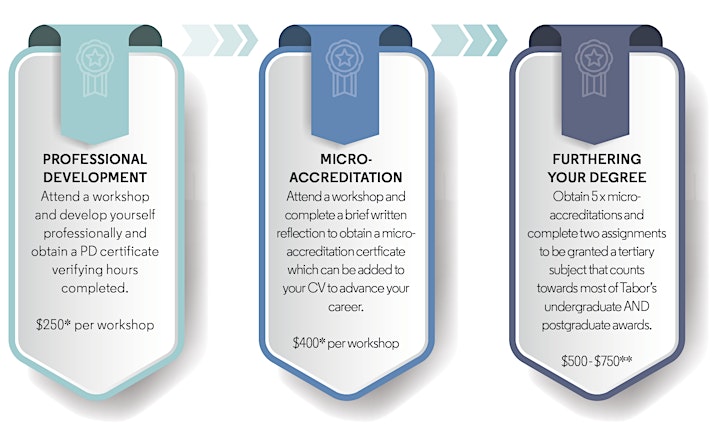 To find out more about how you can leverage PD toward a micro-credential or higher education qualification, please contact Amy Marsland at AMarsland@adelaide.tabor.edu.au.
Order tickets here
The Gospel: Making it Make Sense, and Making it Matter 
To register for this event, click on the above box or here – you will be redirected to Eventbrite.